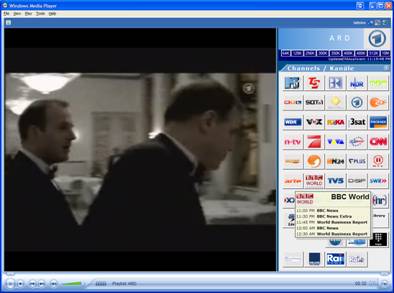 My little "TV anywhere" project makes a bit more sense now, does it? Because Sabine and I will more than likely find ourselves somewhere in the Seattle area by mid-2006 (I'll be telecommuting and "long-haul shuttling" for a while) and we are both big time German football (as in "soccer") fans, we just need to fix a problem.
And I am doing it just because I can, of course. The whole Indigo REST/POX series here on the blog does nothing more than describe all the WCF extensions I wrote to build my personal TV server. The first screenshot here on the right shows the current state of things as it shows up in Media Player. The UI is a Windows Media Player hosted AJAX app with EPG data in tooltips as I hover over the channel icons, I can schedule recordings with a single mouse click and I have access to all my recordings on a separate channel or just on the channel that's currently being watched. But that's just the "Clemens on the road" version of this.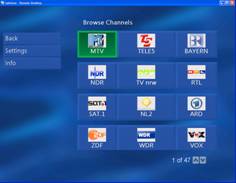 The other front-end is the "far away at home" version of it and that looks like the screen shots on the left. Meanwhile I have an AJAX front-end that's built for Windows XP Media Center Edition (MCE) and snaps right into the MCE experience. My dad will get the PC that sits here in my living room and host it at his house behind an upgraded DSL line and my (to be bought) MCE machine over in Seattle will connect to it and give me remote (control) access to the 35 cable channels over here. That's the plan.
The backend is and remains Beyond TV, because it's a very flexible, programmable and – most importantly – streaming enabled TV engine. It's an unlikely couple, but I decided that Beyond TV and MCE should have a wedding on my boxes. Works well.
The immediate question is of course still "Looks cool, when can I have it?" The issue is that this is a lot more of a tricky story than DasBlog, because I am depending on an existing backend software with its own, a bit limiting EULA, I am relying on a foundation that isn't even released (WCF) and I am a lot more worried about the support situation, because setting this up correctly with Beyond TV alongside MCE and my service is … ummm… only something for folks who have no fear of the gates of Mordor and beyond. We'll see what I can do…