Ho!Ho!Ho Chi Minh! … City. The market reigns under the red flag.
I have to admit that I was a bit hesitant when Patricia came up with the idea to go to Vietnam on the "leisure-loop" of our South-East Asia trip. The country is, of course, still controlled by a socialist party and is even still "Socialist Republic", and I really knew very little about Vietnam except for the horrible historic events of the 1960s and 1970s. Of course I was absolutely wrong being concerned about our safety and Ho Chi Minh City isn't socialistically dull and boring, at all. In fact, it's great fun!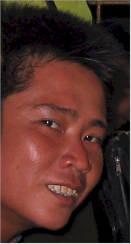 We met Dung (right) and Tuang (on the left) at a street corner where they asked us whether we wanted to take a tour on their bike-carts. One hour per person for $3 US. Although Vietnam does of course have a proper local currency (the exchange rate is about 15,500.00 VND for 1 USD), everything can be paid for in U.S. Dollars and that's actually the preferred way of payment. In fact, $3 USD/hr is relatively expensive already considering that locals can get a full meal for less than 30 cents and that you can buy 2.5 liters of (surprisingly good) local draught beer for about 30,000 VND if you (a) find the right place and (b) have local people with you as we did.
However … Dung and Tuang's services are easily worth their money. They are very friendly (it seems like any other Vietnamese person you could meet in the streets of HCMC is like that), they speak OK-enough English for a conversation and for them to explain a couple of things here and there and of course they know the places to go. But their most amazing skill is navigating through the traffic chaos of Ho Chi Minh City. In "HCMC", you see a couple of cars here and there, but the streets are dominated by thousands of quadrillion-bazillons of small motorbikes. And of course, nobody pays any close attention to traffic rules (if there are any), but mysteriously, it just works. Even if you go with a slow bike-cart against a one-way street smack in the middle of the road, the traffic flows magically around you and you never get a feeling of being in danger. The secret seems to be that everyone drives very slowly and everyone seems very alert. I would think that the average speed in traffic is about 25-30 km/h. Dung and Tuang took us around for about 6 hours for the money equivalent of 3 rollercoaster-rides at the "Kirmes" in Düsseldorf complete with the entire thrill but a lot more fun.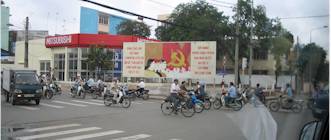 What becomes very apparent even as you approach the city-center from the airport is that all that seems left of the "Socialist Republic" are the occasional paroles on street posters, but otherwise the market rules. We were told that it's very different outside the two big cities Ho Chi Minh City and Hanoi and that the agricultural collectives are still the common organization of work there, but there's no trace of what I think is a "Socialist Republic", of course having East Germany in mind as an example. Quite to the contrary, Saigon (you will find the old name used much more frequently than "Ho Chi Minh City"; "Sai Gon" is in fact the name of the central 1st district) is a very colorful and vibrant city with a lot of very visible entrepreneurial spirit.
While it seems to be a fun place to be (I spoke to an English guy who went there for a three day trip, went home, quit his job and is now there for 9 months already), don't expect too much great sightseeing experiences. There are a couple of things to see, but nothing too spectacular. "The War Remnants Museum" on the premises of the old U.S. embassy (from which the last U.S. troops were evacuated by swarms of helicopters),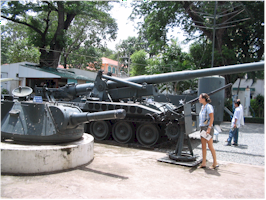 shows a couple of U.S. weapons that were left behind, including the obvious Huey Chopper, an F-5 fighter, a couple of tanks and all sorts of short range missiles. The most horrible two weapons on display are two "daisy cutters" – 7 ton fuel-bombs that annihilate all life within a 500m radius of their point of detonation. The most horrible pictures on display in the adjacent exhibitions halls are those that illustrate the short and long-term effects of the infamous "Agent Orange" on people. Interestingly enough, the rest of the exhibition – except some obvious propaganda in a hall illustrating the support of the world for Vietnam in the times of war – is mostly from U.S. publication sources and photographers, which gives the exhibition some (strange) balance. The entrance fee is 10,000 VND per person.
Otherwise, Saigon is a very interesting and friendly place to explore if you have two or three days while in South East Asia. The Vietnamese people have long understood what the Dollar and Euros are not only worth to them but also to you so don't expect it to be very cheap. Saigon seems more expensive than, for instance, Bangkok and is much less developed at the same time. However, just from feeling much less "westernized" than any of the other Asian cities that I've been to, it draws its appeal.