The temples of the old Khmer empires in Angkor (Siem Reap) in Cambodia are truly amazing and a must see for anyone interested in ancient cultures. (Although they are actually medieval on the Western time scale considering the time they were built – between 900AD and 1300AD). The picture shows the most famous and best preserved temple, Angkor Wat, which can only be compared in terms of overall scale and work effort to the great Cheops pyramid in Giza. Angkor Wat is the biggest religious site on the planet.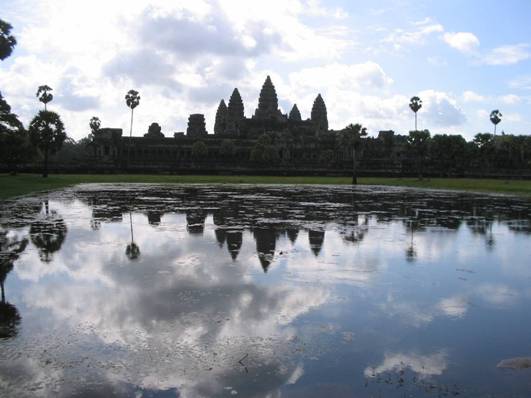 I don't even know where to start writing about how impressive the Angkor sites are and I am certainly not the least bit qualified to describe them properly, so the best is for you to check this very informative guide to the Angkor monuments.
In Siem Reap we stayed (luckily) at one of the two best hotels in town, at the Sofitel, which was US$100 a night, but which I can highly recommend if you want to avoid a major culture shock. Cambodia is one of the poorest countries in the world and while Siem Reap doesn't immediately reflect this, staying at the Sofitel is certainly the best thing a western tourist can do who is not of the adventurer/backpacker type. I spoke to a Swiss tour organizer who specializes in Cambodia tours and he told me that he consolidated his hotel list to only 4 hotels in Siem Reap and the Sofitel easily tops his favorites list – and it's not the most expensive one. In general, Siem Reap is not a very cheap place to go to considering all cost, but it's all money well spent if you consider that tourism is the primary source of income and the economic engine for literally hundreds of thousand of people in the Siem Reap region and that Angkor is still mostly a destination for "those who know".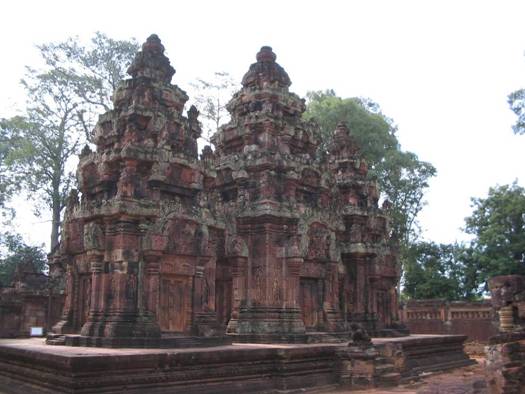 The entry fee for all of the Angkor sites is US$20 per day and person or US$60 for a three day pass. A good local tour guide and a taxi driver will cost you between US$30 and US$40 per day. You'll need both and you shouldn't try to explore the sites just with a book – the guides speak good English (a German speaking guide will ask US$10/day more) and are usually very well educated about the sites and they will fill you in with all the religious background and legends that you will need to understand to appreciate the art. Food can be very cheap (less than US$1 for a meal) if you are one of the daring types with a strong stomach or between US$10 and US$30 at a hotel or at the very few proper restaurants, if you are such a civilization wimp as I am.
What you definitely need is lots of sun-block, anti-mosquito spray, light clothes and a hat. Even in the rain season (which is now) it's very hot around noon time and the humidity is easily at >90%. But that's not so different from Cairo ;)